Christmas of 1986 my dad does a duet on a toy keyboard with son singing into the toy microphone...son adds some funny sound effects to Silent Night.
Christmas of 1983 we headed to stay at a friend's cabin in Big Bear, California for my first ski lesson. Here is just a short clip of me on skis. The second time I took a lesson and attempted to ski was in 1984 at Mammoth in northern California but son also took his first lesson that time, so I was preoccupied watching over him. Below: Son on skis age at 3-years old.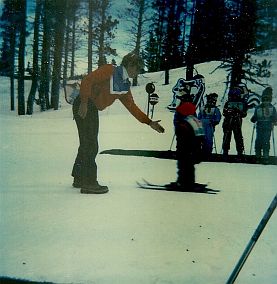 Dad was always trying to be the comedian, sometimes successfully making everyone laugh. Here's a few clips from 1983 and 1986 of my father as the wannabe comic. If only they had video cams back in the 50's and 60's when he used to entertain us by playing the closet door like it was a stand-up bass.
Christmas 1987 Son playing Captain Power, which was an interactive technology out of Japan at that time. There were
video tapes and also a Saturday morning TV show briefly. It
was programmed that the tape or TV show would send out a light signal from the TV screen, and if the Captain Power spacecraft
gun was in its path it would be a hit against the player. If the
player shot the TV screen and hit certain points on the video, the player would get points on the spacecraft/gun. If the player got hit three times, it exploded with the Captain Power figurine ejecting out of the cockpit of the spacecraft/gun. Watch Son do his best
Curly from the Three Stooges impersonation towards the end.
From the time he was very little in his high chair he would try to
bite balloons and when they would pop in his face he would
crack up laughing rather than like most babies who would get scared and cry.